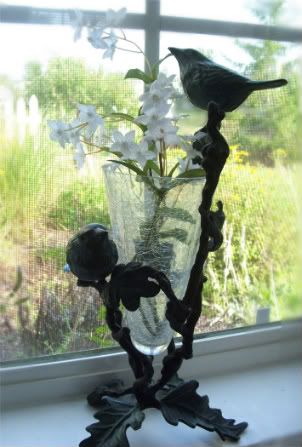 It came in the mail today like a letter bomb.
An invite to join AARP. I believe it will make a good target this Saturday. Next Wednesday is my birthday. They couldn't wait.
I feel about aging like William Saroyan said he felt about death "everybody has to do it, but I always believed an exception would be made in my case". All of my elderly relatives say they still feel like they were young, my Dad said nothing much changed after my Mom died and he edged into retirement other than all the names in his little black book ended in "M.D." Then in his 70's he fell in love again, hard, and remarried and he says that love late in life is still the sweet roller coaster that it was at 20.
Myself, I feel about 25, unless I haven't had my coffee in which case I feel 107. I never felt old when I turned 30. When I turned 40. When the occasional grocery store checker started calling me "ma'am". When I saw my old school lunch box in an "antique" store.
I got up early this morning and after opening up the curtains to the outside fields, I went in and looked in the mirror in the morning light - closely. Start with the body. OK, it's not 20 any more, there's those extra pounds that set up base camp somewhere low and safe and never hiked out, my knees make really funny noises if I run up too many miles and there's quite a few small scars - that time I fell off a ladder refueling a tanker, the tiny hairline one where, when rock climbing, I got beaned by some small stones tumbling down, the one on my knee where I had a mid air with a hurdle in high school track. Yet what is there serves me well, taking me where I want and need to go: flipping a sport airplane upside down with glee, to the grocery store, to the gun range, over seas and around the block, seeking out and finding adventure with friends who accept me as I am.
Now I look at my face. Thanks to good Scottish genes and sunscreen there's no wrinkles around my eyes unless I smile, but those are the best kind, those that map the laughter of good company. The few little wrinkles? Earned them. Every damn one of them. Finally I look at my eyes. Still sea green, edged with blue. The eyes can be serious. Like others who do what I do, I've seen a lot. Blood, senseless violence, and careless tragedy. I have learned the hard way that there is danger and dangerous souls in the world and I'm not one to shy away from it. My reaction to attack is to defend, not give in. It's not a cognitive thing, but a visceral reaction. Hit unawares, I have ducked, turned, and struck back, ending up tired, and emotionally bruised and wondering how I got there. But I do it, for to me there is hope in it, there is order. I never had the sense of clockwork conspiracies, or some kind of imposing order of evil. There's simply a sense of things falling apart. That's my sense of how these things happen, that it's not any kind of calculated evil driven by grand karma, but just control disintegrating. Most times, things fall apart and happen out of stupidity and carelessness, not anyone's personal jihad. And I'm there to either prevent it, or if I can't, pick up the pieces.
Sometimes I take it home with me. And though in my writing I can write of the nature of immortality and death, with an emotional mantra, in my work, in my daily life, I must strive to be unemotional, especially as a woman in a job that is seldom done by women. Yet looking in my eyes, at my stance, there is a sense of will, and a satisfaction for doing what I do.
These green eyes have seen a lot. They've seen birth, death, failure, loss, success, and dreams denied. They look the same as 30 years ago, yet are different. Like me. I am more myself and more at home in myself than I was at 25 or even 35. I'm content in that. I'm content with my life. On this quiet day, I sit in my library looking onto my garden surrounded by my recent book purchases. Heinlein, Ayn Rand, Stephen Ambrose, Louis L'Amour, James Hornfischer, Theodore Rex, Terry Pratchett. How I perceive my life can be glimpsed through the books I read, as if my selection offers a glimpse of my sense of self or a mirror, wit and honor and courage occasionally lost, then re found. Convictions of tangible choice that changed how I live and how I see the world.
No it's not youth, but it's a vast intangible strength we call "soul" that's going to persevere for a long time to come. I wouldn't trade that; exchange the sense of who I have become, the self that is secure in its structure, the self that is worthy of love, for any chance to be a firm, pert 20 year old again. So, content, I will finish my day as a singing bird erupts into sweet song in my back yard. What I know now; now that I am considered AARP material, is not how to be dead, which I know too well how to do from all I have witnessed, but how to be alive. Living and breathing and growing, as the trees in my garden and the liquid tranquility of a rushing stream or a mere small songbird, who truly believes that in this moment, he's eternal, and for an instant, may very well be.